Garage conversions to ease isolation frustration
Garage conversions are becoming increasingly popular in an around the Penkridge area, as home owners are spending more time at home, working from home or have a growing or aging family requiring extra living space.
From our point of view, a garage conversion is one of the quickest and easiest construction jobs for us to complete which can be done with minimal disruption to the rest of the household. We use a patented technology called ZipWall to ensure that our workspace is sealed off from the rest of your home, this is really important if you have asthma or allergies as it minimises the dust from our equipment seeping into other areas of your house.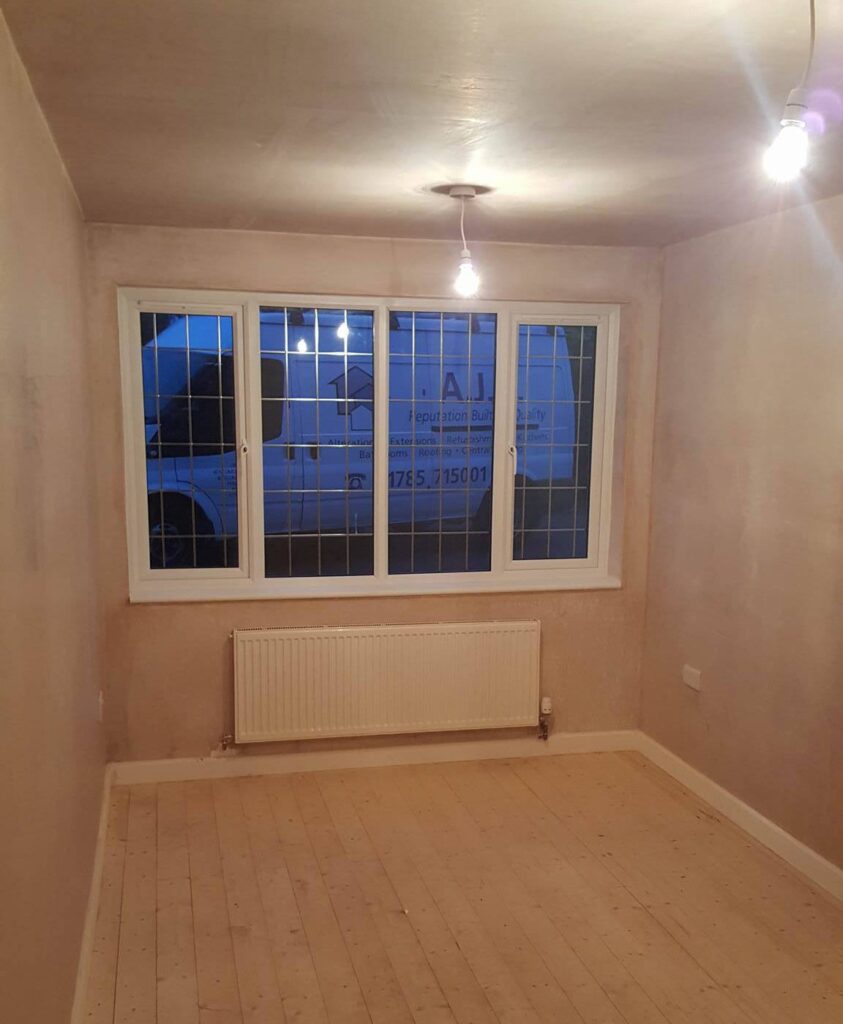 As a homeowner, an internal or external garage conversion will add significant value to your home and will give you some much needed breathing space. Once you have a super new room in your home to enjoy just think of the possibilities that it could be used for:
Top Ten Uses for a Garage Conversion
Home office
If you're struggling with working from the dining room table and your set up is lacking in creature comforts, such as a decent office chair and footrest, then a garage conversion is the perfect solution.
Children's playroom
Sick of toys and books all over the house? Regain the zen in your household and hide the children's clutter neatly away in it's own dedicated space. Add a small desk or two and there is even a quiet space for children to learn from home and do revision.
Home gym
Give your lounge carpet a break and try working out at home in your own personal gym. If you're a cyclist, add a flatscreen to use with your Peleton or similar and you can tour de France with the best of them!
Utility room
Hands up if you'd love a practical space for your washer, dryer, additional sink for washing boots (or pets), somewhere for your ironing board, vacuum, mops and maybe an additional fridge or freezer? A garage conversion provides the perfect opportunity for a utility room – you will wonder how you ever managed without it.
Library
Need some downtime or a good reading nook? Let the bustle of the household pass you by as you decamp into the sanctity of your own personal library. Bliss.
Dining room
This Christmas, gather the whole family together and enjoy the best Christmas ever (don't we all need that right now?) around a lovely big dining table.
An extra bedroom
Rather than go through the hassle and expense of moving house, add and extra bedroom by converting your unused garage.
Complementary therapy room
Turn your underutilised garage into a massage room, reflexology suite, reiki centre or physiotherapy room.
Man or Woman cave
Come on, you know you want one. Whether its for COD warfare, your own home bar, craft room, chillout zone, music or art studio – the extra space that a garage conversion offers is ideal.
Home cinema
Stream Netflix to your heart's content in a dedicated cinema room for the whole family – pass the popcorn please!
Social Distancing
During this challenging time, any works undertaken by our team are done under the strictest of controls, with little to no access required to the inside of your property, regular sanitisation of our work area and adherence to all World Health Organisation recommendations.
Contact us for a no obligation chat or a free estimate. Together we can make this work!

We'd love to hear your ideas for a garage conversion over on our social channels: Facebook, Twitter, Instagram, YouTube,