AJG meet DIY SOS team after tools snatch
Unfortunately, exactly that happened to one of the contractors on a charitable project co-ordinated by BBC presenter Nick Knowles and his team of DIY SOS experts this week in West Bromwich. The AJG team were devastated to hear the news of the tools snatch in our local paper, the Express & Star particularly because something very similar happened to us just a few weeks ago.
As we'd been through exactly the same thought processes… 'who would do this?', 'what exactly has been taken?', 'how are we going to do our jobs now?' – we jumped in our van and drove down to catch the DIY SOS guys who were working locally, hoping to be able to share with them and their contractors, information about software that we've been using for a while, Tradesoft.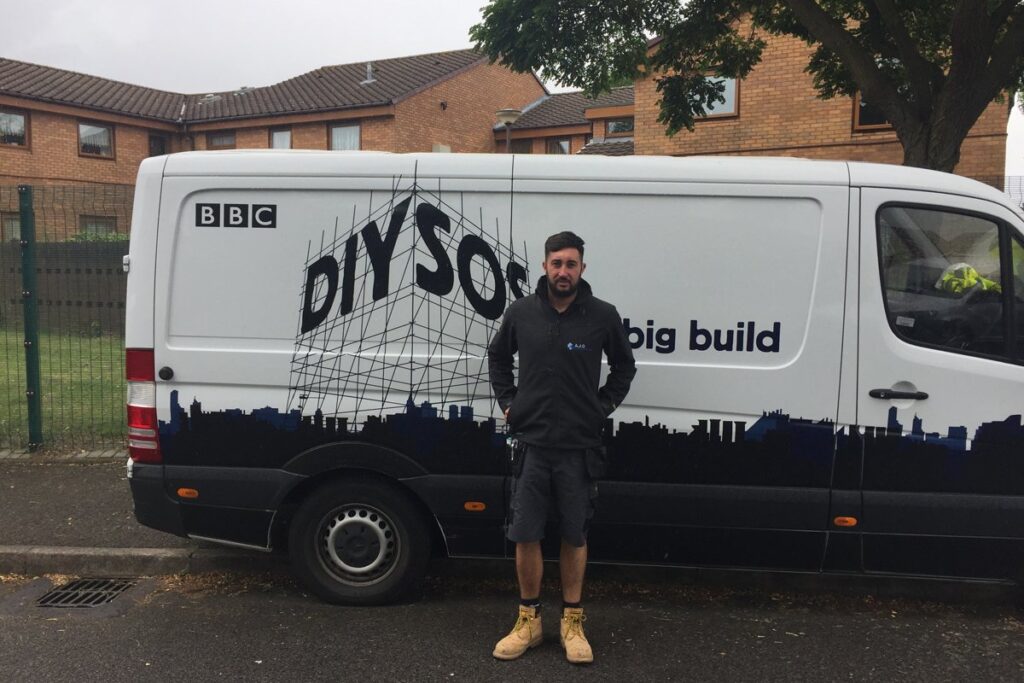 worse as they're obviously involved in helping a local family in need, for free. Any losses, in this case over £5,000, would have come as a doubly hard blow for all involved, potentially delaying the project for the family in need.
Tradesoft is a full-service piece of software built solely for the construction market and one of the things it does is log all tools and inventory, van by van, if that's how you want to set it up. For us this meant that, as soon as we knew we'd been the victims of a burglary – we'd got a digital record of exactly what had gone missing including serial numbers. Crucially, this speed and accuracy of inventory tracking means a much swifter insurance claim to get reimbursed and back into business as quickly as possible but it also helps the Police identify stolen good and hopefully catch the culprits!
It was great to meet the DIY SOS guys, albeit under sad circumstances, but hope that our sharing of a similar experience goes some way to protect their future contractors. Under the circumstances, Tradesoft have offered this particular group of DIY SOS contractors free and unlimited use of their construction software for life, but you can try it out for free yourself for a month.
Good luck with the rest of the project Mr Knowles and team and we look forward to the next Big Build.
To learn more about AJG and our home improvement services in Staffordshire, join us on Facebook, Twitter, YouTube or LinkedIn.